Give Your home or business a Brand New Look!
We offer premium quality painting, cabinet restoration services and more! Whether you own a home or business—we've got you covered.
What we do
At Hudson Paint Contracting, all your painting needs are met under a single roof.
Painting
Creating lovely spaces that you will enjoy.
Residential Painting Services (Interior & Exterior)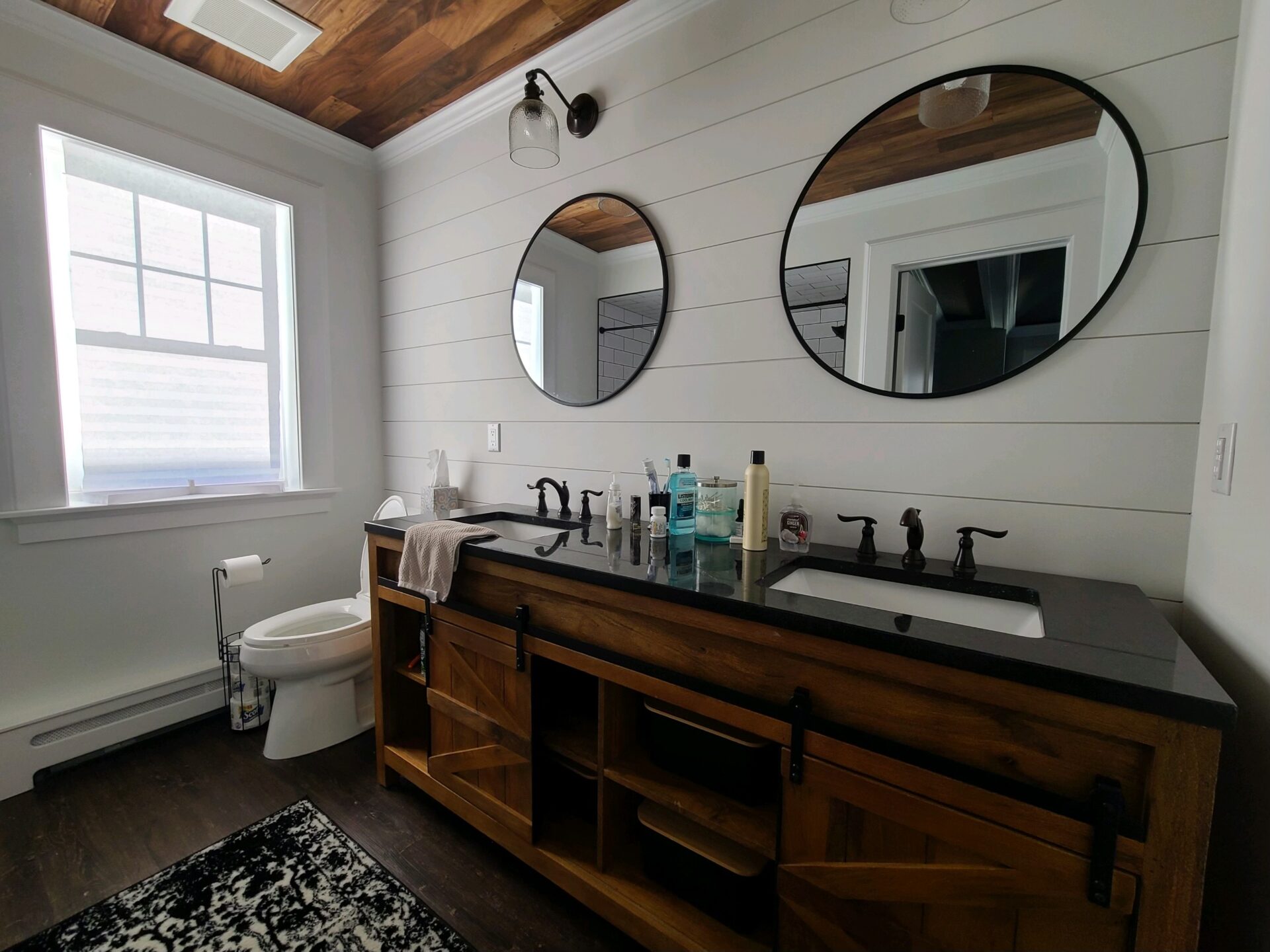 We'll treat your home like a work of art. Team up with Hudson Paint for a seamless home improvement experience. Our painters know what it takes to create lovely spaces that you will love.
Color Consultation
Is your home in need of a face-lift? Are you ready for a change? Don't stress over the color selection process for your home. Whether you want the interior or exterior painted, Hudson Paint Contracting is here to help.
Power Washing
Hudson Painters use different power washing and soft washing techniques depending on your home or business requirements. 
Vinyl and Aluminum Siding Painting
Hudson Painters know how to repair and restore vinyl and aluminum for a fresh new look. We will assist in selecting a color with you that meets the (LRV) light reflective value for applying paint to vinyl and aluminum. 
Drywall Repair
Whether your home has water damage that requires drywall repair or your walls have medium-to-large holes that need patching, our Hudson painters will patch, sand, and prime to create a flawless surface to paint on.
Light Carpentry Repairs
Our painters are qualified to repair or replace exterior wood, metal, or stucco/EIFs repairs and drywall, plaster, siding, and wood replacement.
Wallpaper Removal and Installation
Wallpaper removal is a tedious, frustrating process. Additionally, if done incorrectly by someone without the necessary experience, it will result in unnecessary damage to your walls.
Stucco Repairs and Painting
Hudson Painters are able to repair your home or business stucco exterior from damage due to weather or other related issues. 
EPA Lead Certified
Any home built before 1978 should ensure that the contractor works with an EPA RRP Certification. When you work with Hudson Paint Contractors, you can rest assured that your lead-based paint project will be handled safely and complies with EPA regulations.
Popcorn Ceiling Removal
Popcorn ceilings had their time, but now they're hardly seen in modern homes. Removing a popcorn ceiling yourself can be extremely difficult. Our Painters are trained to remove popcorn ceilings effectively that will leave your ceiling looking fresh.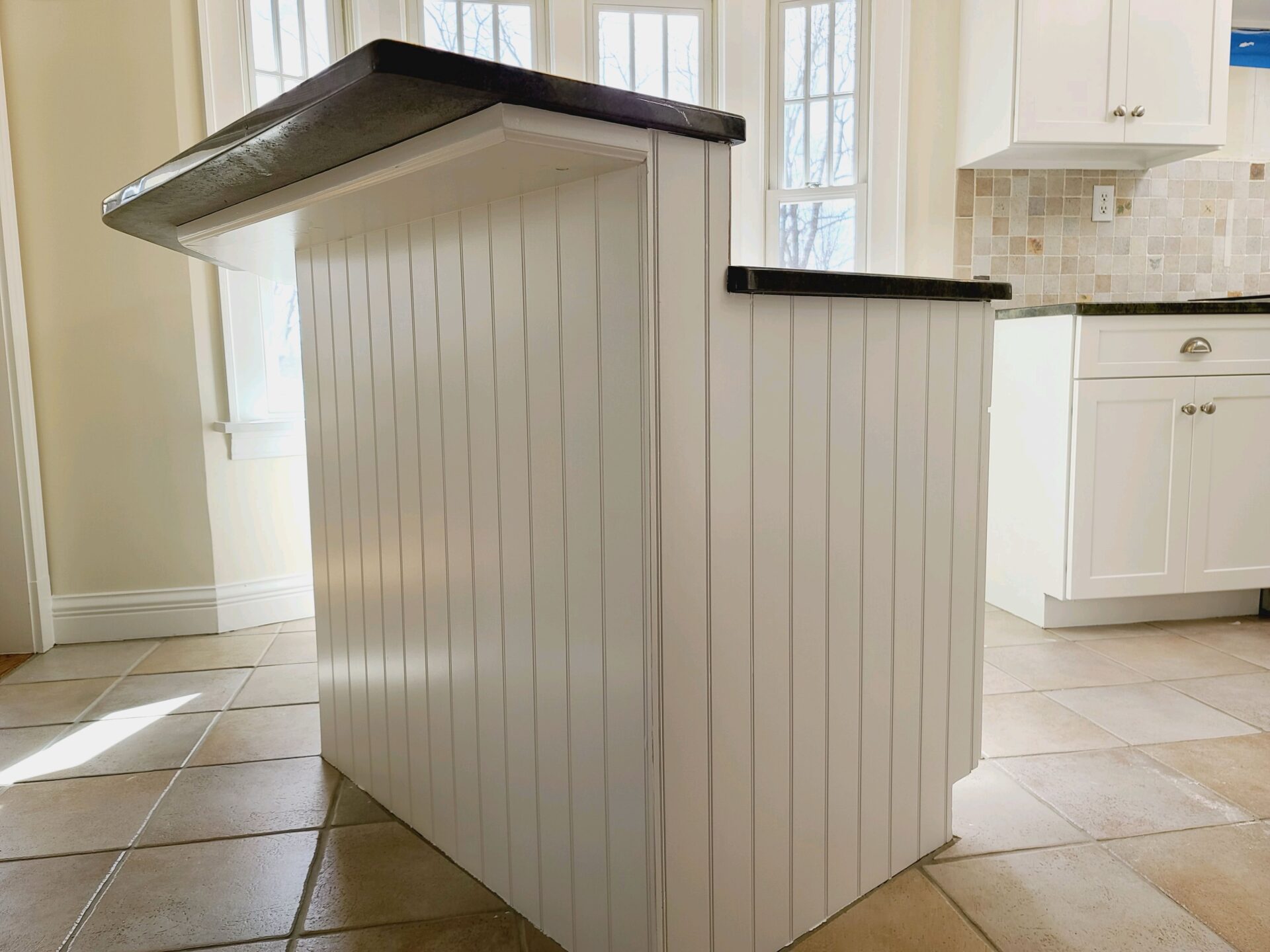 Transform Your Kitchen Today!
About Cabinet Painting
If you're tired of the way your kitchen cabinets look, you don't have to pay to have a new kitchen installed. You can save money and give your kitchen a makeover by having your cabinets painted. This project requires a lot of hard work and craftsmanship, so it's best to hire experienced professionals. With us, you can rest assured that the job will be done with precision and skill. There are several options for cabinet painting; they can be painted in place, removed, and sprayed in our workshop or outside your location. The time it takes to paint cabinets will depend on how many you have. Typically, it takes anywhere between a couple of days to one week.
Why Cabinet Painting
By painting your cabinets, you can create a completely new look or improve the original. If your current cabinets have started to chip, the coating begins to degrade, this can lead to wood rot or warping.
The Kitchen Cabinet Painting Process
At Hudson Paint Contractors, we offer cabinet painting services to help fix and revamp home and commercial kitchens. Several factors will determine the pricing of your cabinet painting services.
​
The overall size of the cabinets
The number of doors and drawers
The difference between new and existing
The choice of having the project completed on-site or off-site
The overall estimated project length of completion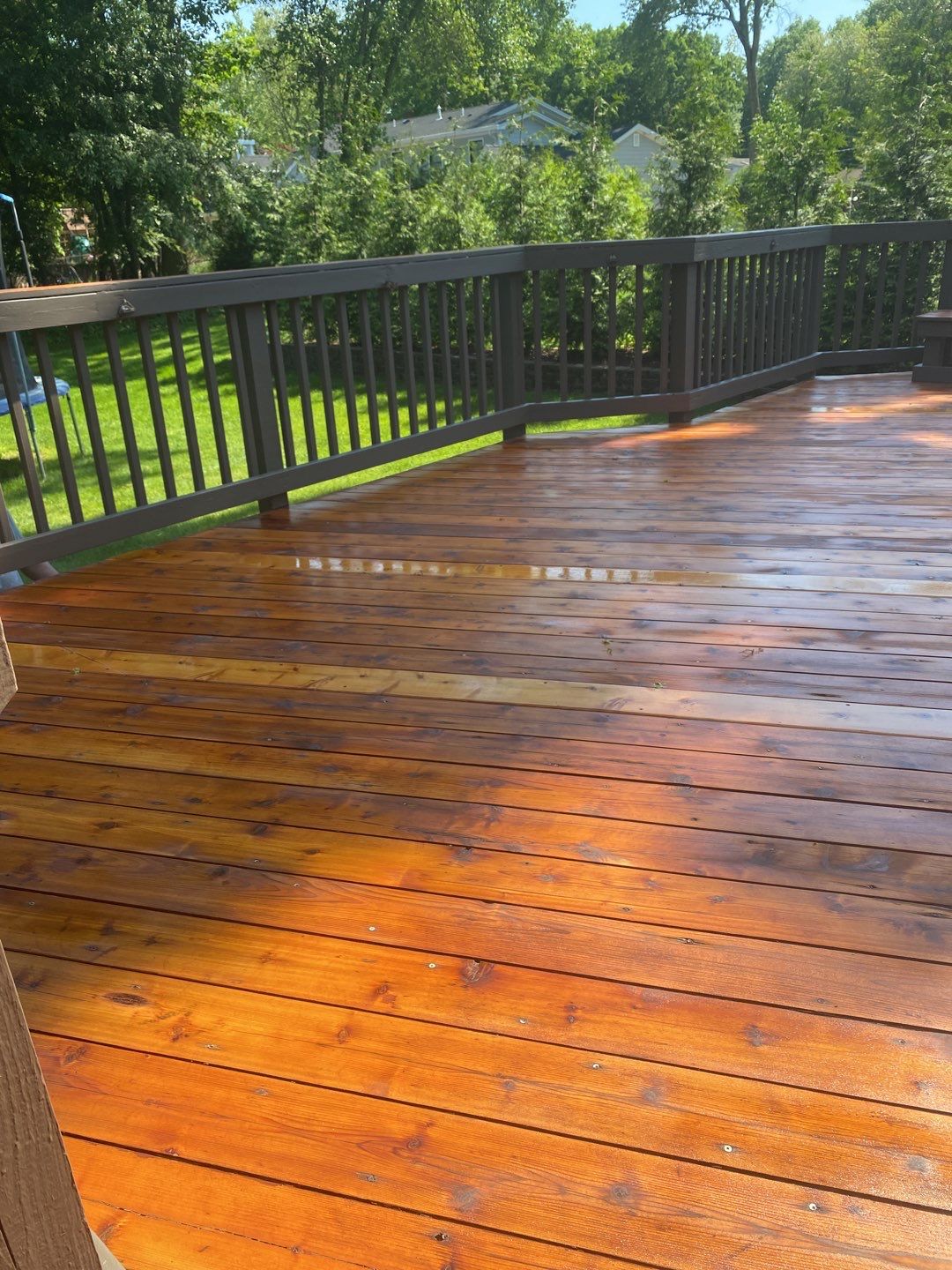 Keep Your Deck Weather-Resistant and Visually Appealing.
What is Deck Staining?
Staining your deck will not only highlight the wood grain and improve its overall appearance, but it will also increase its lifespan by preventing insect infestation and rot. Deck staining will also prevent the wood from absorbing moisture which, if left unchecked, can freeze and cause costly damage.
When it comes to choosing deck stain colors, there are plenty of options, from natural-looking clear wood stains to bold solid colors. While you're looking for one to suit your project, you should consider that a clear stain will bring out the wood grain, while a solid color will reveal very little of the wood's natural color. Many homeowners leave their pressure-treated wood as is because they think that you can not apply stain to treated wood. This is not the case. There are many different shades of stain that can complement the look of treated wood. You can stain all decks whether they are pressure treated or have already been stained.
When is the best time to stain or restain your deck?
Homeowners should re-stain their decks periodically. The lifespan of your deck stain will depend on several different factors, including:
The elements: Direct sunlight is the biggest threat to your deck because it can cause the stain to dry out and weather much faster. Rain can also cause damage, especially if your deck is not treated. The wood can soak up the water, and when the temperature cools, it can freeze, causing cracks. With each season cycle, your deck can become a little weaker.
​Foot traffic: Once you have applied a good deck stain, typical use of your deck will not begin to show signs of wear for several months. Gradually, the stain will begin to wear as the small particles of dirt beneath people's shoes rub on the deck's surface like sandpaper.
When is it time to re-apply deck stain?
Your deck stain's full protection will only last for three or four years, but to prolong its effect, you can apply another coat after two years. However, it is better for your deck not to apply too many coats of stain. After four years, you should remove the old stain and apply two fresh coats. This will strengthen and revitalize the wood. Using a professional deck-staining company is crucial. If someone without the proper professionalism and experience stains your deck, they may not prepare the surface correctly. They may use the wrong type of stain, or apply it unevenly. All of these mistakes can impact the integrity of your deck, not only impairing its look but also its structure. Staining a deck is not like painting interior walls. It can be very costly to undo poor staining. Call the professional at Hudson Paint Contracting today.
Deck Staining Process
Scraping:

To prepare your surface, we will first remove any dirt, gravel, and chipped paint.

Power Wash:

To ensure the surface is ready for stain or paint, we will thoroughly power wash.

Sanding:

If necessary, we will sand any areas that are raised or lost to create a smooth surface.

Priming:

The primer will also ensure that the paint sticks properly and will help you avoid any peeling, bubbling, or blistering in your finished paint job.

Paint or Stain:

The final step is to apply premium paint or stain to your surface.
Power Washing / Soft Washing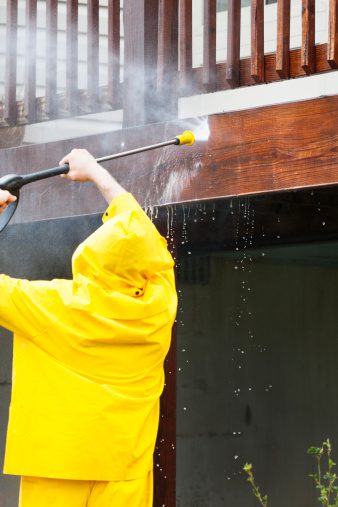 Keep Your Home or Business Visually Appealing.
Why Powerwashing?
Power washing is a job that a skilled professional needs to tackle. There are different techniques to use when you power wash a surface, and doing it with the wrong amount of elbow grease can certain cause a slew of other problems. For example, if you power wash your home without applying the right amount of pressure consistently (and if you don't have the proper training) you can end up damaging the surface of your house.
Benefits of Powerwashing
By performing regular maintenance (such as power washing) on your home or business, you will save money in the long run. Power washing prevents the breakdown of your home or business surfaces, so if you power wash regularly the longevity of the exterior of your home or business will increase.
What Can We Power Wash?
Power washing is an important step in the preparation of exterior surfaces to ensure the cleanest surface. Hudson Painters services can use different types of power washing depending on your home or business and the type of job. Power washing can be performed on: Asphalt, Bricks, Concrete, Wood, and Aluminum.
Commercial Painting Services ( Interior & Exterior)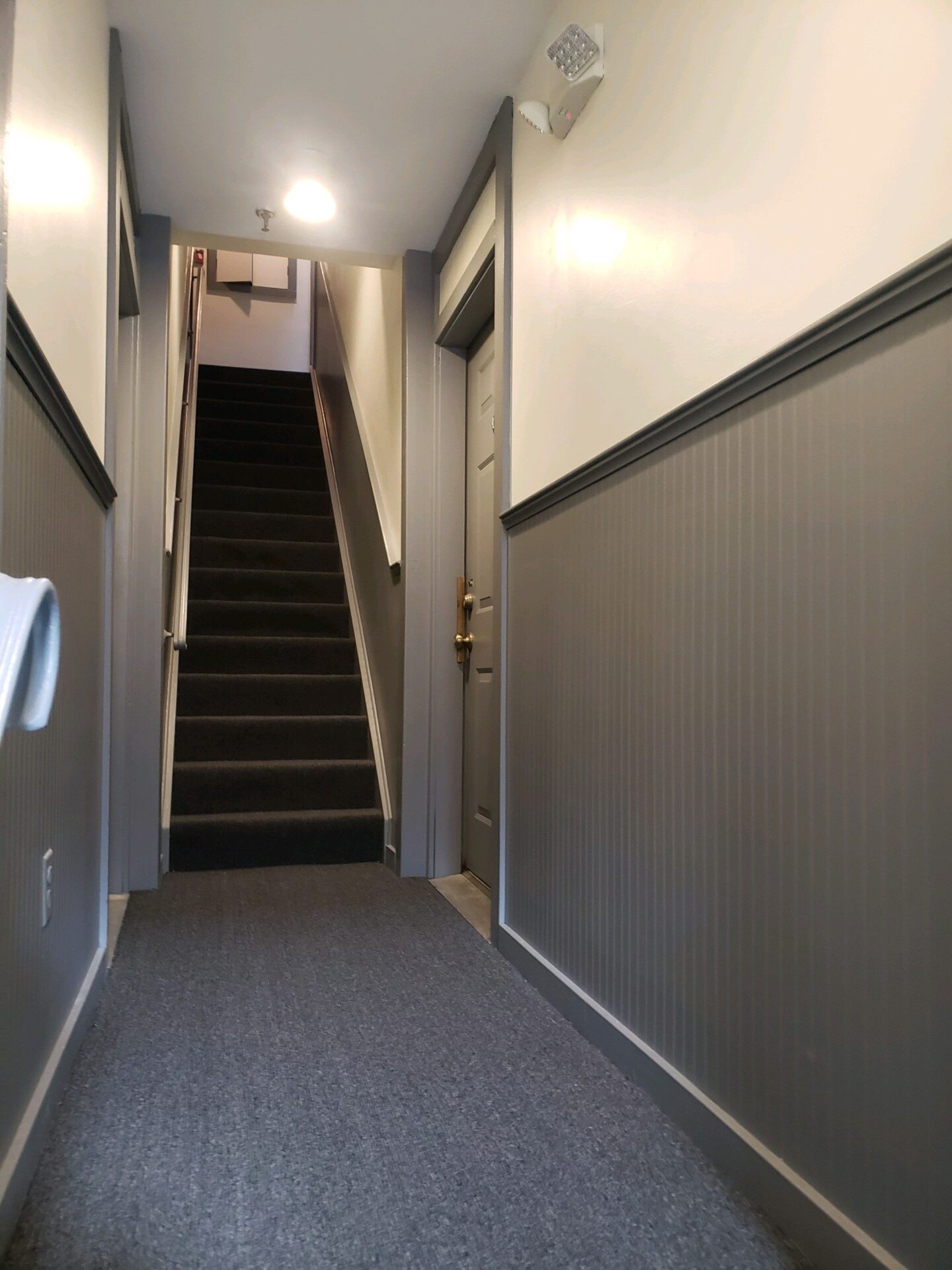 We don't just please our residential customers; we offer commercial painting services too! No matter the size of the project we get involved in, we ensure to complete the work on time, on budget, and without hampering your day's schedule.
Exterior Painting
Choose Hudson Painters for your exterior painting needs and get results that protect your investment, increase your property value, and make your building more attractive.
High-Durability Coatings
High-durability coatings revive the appearance of heavily-trafficked areas while protecting your long-term investment.
Interior Painting
We can help you find the right colors to match your existing paint or create a new vision for your property.
Light Carpentry Repairs
Our painters are qualified to repair or replace exterior wood, metal, or stucco/EIFS repairs, as well as drywall, plaster, siding, and wood replacement.
Rusty Metal Door Painting
Instead of going to the expense of replacing metal doors in your commercial building, these doors can often be restored and repainted by our professional commercial painters.
Stucco Painting and Repair
A thorough inspection by the professionals at Hudson Paint Contracting provides commercial customers like you with expert guidance on how best to approach your stucco project.
Vinyl/Aluminum Siding Repair and Painting
Hiring professional commercial painters to repaint vinyl siding quickly restores its appearance at a fraction of new siding cost.
Wall Covering Removal and Application
Expert installation & removal of wallpaper and wallcoverings of any type, including hand-painted vinyl, foil, flocked, murals, and more!
Waterproof Coatings
Let our experienced professionals protect your surfaces from the weather by applying waterproofing sealants and coatings.